Œnozym® Red Expression: combine freshness and sweetness
22 June 2021 9:45 am
Global warming is having a significant impact on wines balance. Indeed, increases in temperature, alcoholic degree and pH make it difficult to obtain fresh and balanced wines, especially for reds. And yet, these are the wine profiles that consumers are looking for today!
Based on its expertise in the aromatic expression of thiolated grape varieties, Lamothe-Abiet has developed Œnozym® Red Expression. Used during fermentation, this enzyme allows the extraction of polysaccharides and aromatic precursors. It brings sweetness and softness as well as an increased aromatic freshness to wines.
TO KNOW :
Recent studies highlight the role of volatile thiols in the fruity perception of red wines. Indeed, wines supplemented with 3MH (citrus notes) and A3MH (tropical fruits) are perceived as showing a fresher profile with blackcurrant and redcurrant aromas.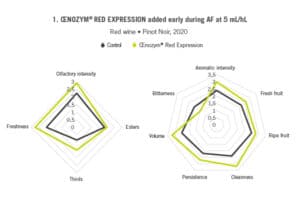 For more informations, see the product page of Œnozym® Red Expression.