When mannoproteins make a real difference
28 January 2021 11:38 pm
Research carried out over 25 years ago has demonstrated the role of mannoproteins in colloidal and tartrate stabilisation in wines. Mannoproteins are molecules that are naturally found in wine, with multiple uses in enology.
Lamothe-Abiet has applied its strong experience in enology and its expertise in bringing innovative products to market to develop Manno'Sense®, a formulation of highly purified mannoproteins extracted from Saccharomyces cerevisiae, with a high amount of sapid peptides.
Manno'Sense® is in liquid form and works instantaneously, participating in colloidal and tartrate stabilisation of wines whilst respecting their freshness and fruitiness, without affecting filterability.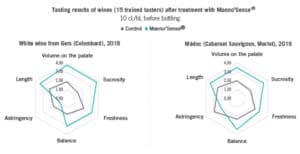 Dosage: Red wines: 5 to 15 cL/hL. White and rosé wines:  2,5 to 10 cL/hL.
Dosage is given as an indication. The optimal dose will be determined by a laboratory test or on the advice of your oenologist.